Best Dog Bed for Your Rottweiler + What You Should Look For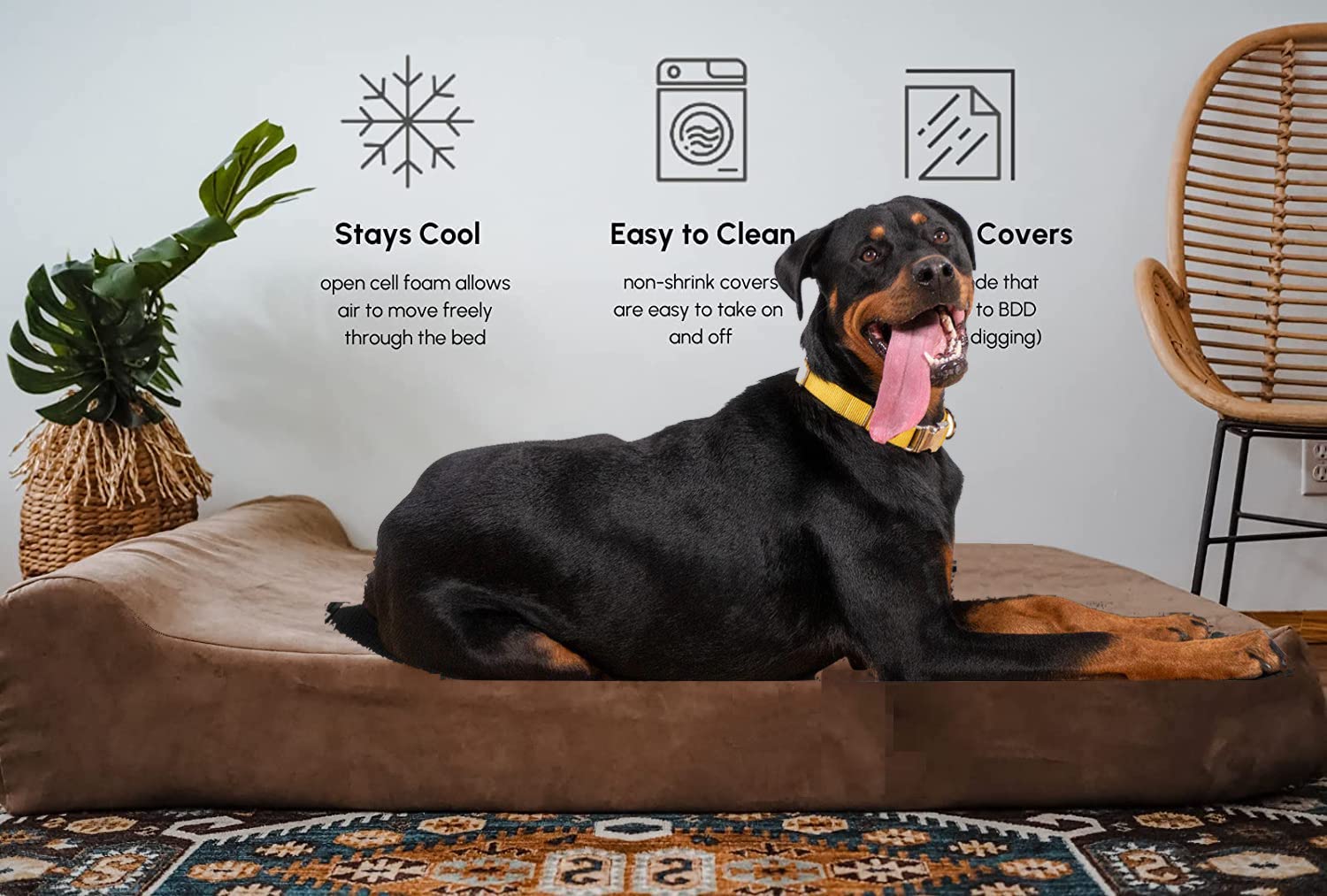 Rottweilers are a unique and beautiful breed with specific preferences when it comes to their sleeping arrangements. As a Rottweiler owner, you want to provide the best for your furry friend, and that includes a comfortable and supportive bed. In this article, I have analyzed and compared various options for you to consider.
The best dog bed for a Rottweiler should be durable and easy to clean, due to their strength and year-round shedding. It should be around 50 inches long to comfortably accomodate an adult Rottweiler. The design should also offer both comfort and support to ease any current or future joint problems.
You will find my top three picks below, including my number one pick, most durable alternative and more affordable option. You can also find some negative reviews to consider for each one so that you have all the information you need to make the right choice.
Please note, some of the links on this site are affiliate links which help support the running of this site at no additional cost to you.
Best Dog Beds for Rottweilers
Below are my recommendations, based on what I believe is a quality product that also accommodates all your Rottweiler's needs. For each of these, you will find both positive and negative reviews, giving you all the information you need to make the right choice for you and your Rottie.
My #1 Top Pick:
The Big Barker Orthopedic Dog Bed
The Big Barker Orthopedic Dog Bed is my top pick for a Rottweiler because of it's durability and quality. It looks good, comes in different colors, is comfortable and supportive. This is a bed that is suitable for any age, so can journey with them into their senior years.
The cost is certainly something to consider, but if this bed is going to last the lifetime of your Rottie, it's well worth it. Don't forget that it comes in different varieties too (this is the 'Headrest' edition, but you can also get the Sofa or Sleek editions)
Click here to explore the Big Barker bed on Amazon.com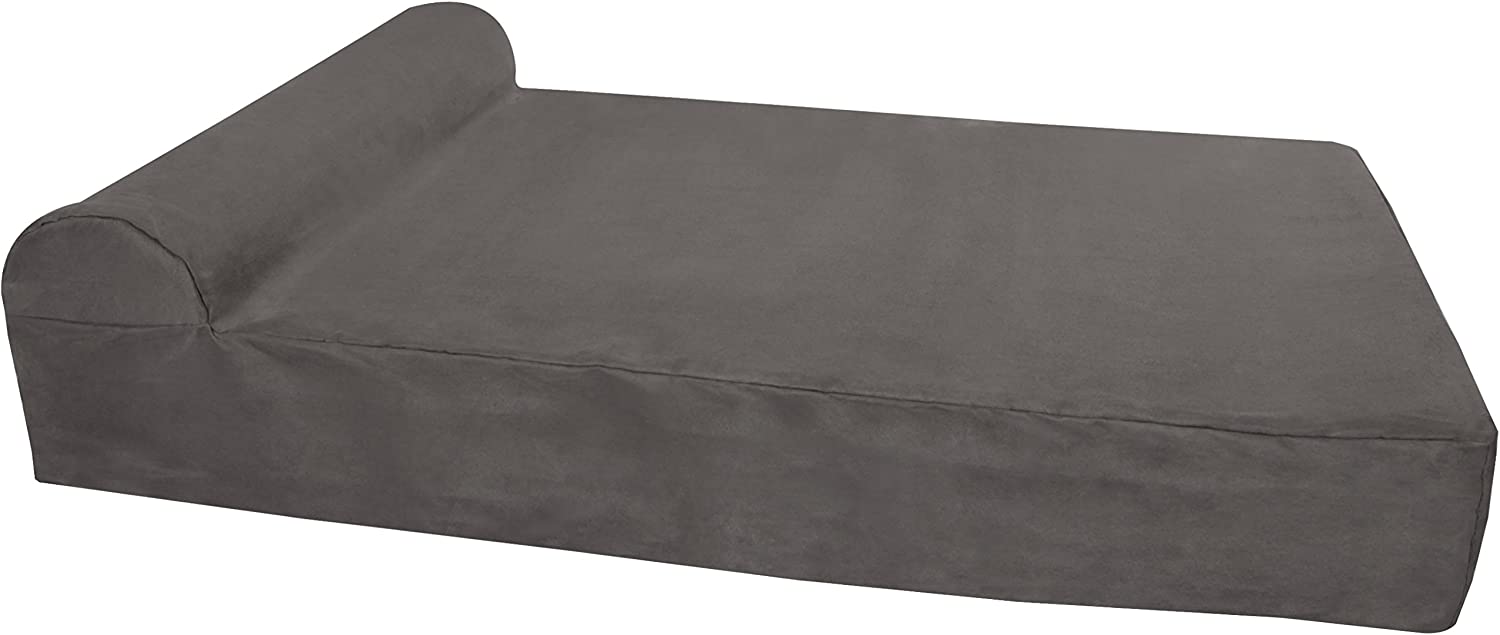 Size
This bed comes in large sizes that can comfortably accommodate a Rottweiler's size and weight (I recommend the XL). This is important because a bed that is too small can lead to discomfort and doesn't provide the necessary support.
Orthopedic Support
This bed is made with high-quality, orthopedic foam that provides excellent support for joints and muscles. This is particularly important for Rottweilers, which can be prone to joint issues such as hip dysplasia.
Durability and Quality
The Big Barker bed is designed to be durable and long-lasting. It's made with high-quality microfibre material that can withstand the weight and activity level of a large, active Rottweiler.

This US company that makes this bed prides itself on its craftsmanship and quality. They offer a 10-year warranty that the foam will retain 90% of its original shape and thickness, which is a testament to its quality.
Easy to Clean
The bed has a removable, machine-washable cover, which makes it easy to keep clean. It is also made from microfibre fabric, which picks up less hair than other cheaper materials. Being a moderately shedding breed, this helps keep Rottweiler hair to a minimum.
Comfort
There are many owner reviews of this bed that speak of how their dogs love the comfort of the Big Barker bed. A comfortable bed can help your dog get a good night's sleep, which is important for their overall health and well-being. Particularly when you Rottweiler gets older.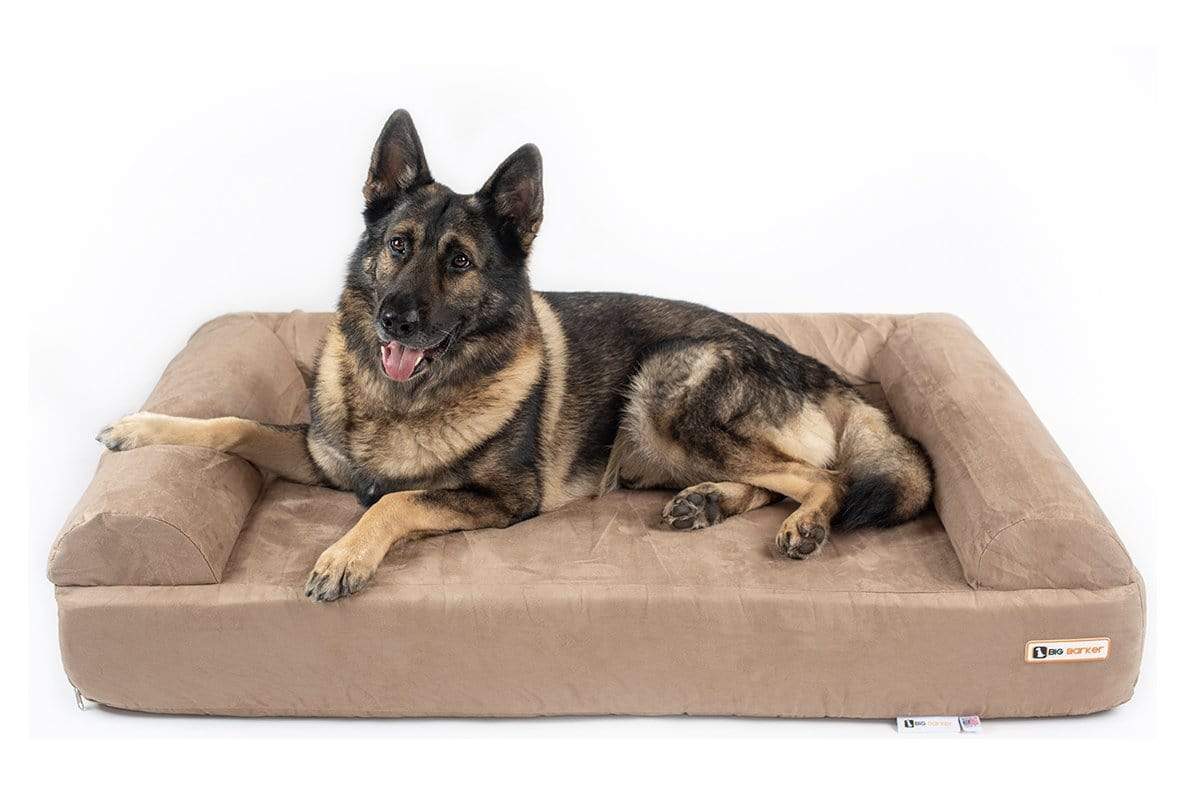 As with any product, it is important to consider what some people didn't like about the Big Barker Orthopedic Dog Bed.
Criticisms to Consider:
Price: The Big Barker is a premium product and its price reflects that. Some dog owners feel that this cost is too high, being over $200.
Firmness: Some dogs prefer a softer sleeping surface and find the high-density orthopedic foam to be too firm.
Heat Retention: Memory foam can retain heat, which might be uncomfortable for dogs that tend to overheat.
Size and Weight: The bed is large and quite heavy, making it difficult to move when repositioning or trying to clean it.
Cover Durability: While the bed itself is durable, some customers have reported that the cover can wear out with time and washing. However, you can buy new replacement covers (including embroidered covers) if this does happen.
If this seems like the option for you, you can find the Big Barker Orthopedic Dog Bed on Amazon.com. But be sure to read some of your other options too!
Most Durable Bed:
K9 Ballistics Chew Proof Elevated Dog Bed
The most durable dog bed for Rottweilers is the K9 Ballistics Chew Proof Elevated Dog Bed. This bed is specifically designed to withstand heavy chewing and rough handling.
If you don't mind the design, it a great alternative to the Big Barker, particularly if your Rottweiler is prone to chewing. I personally prefer this option as an outdoor bed, as it is weather-resistant.
Click here to explore the K9 Ballistics website.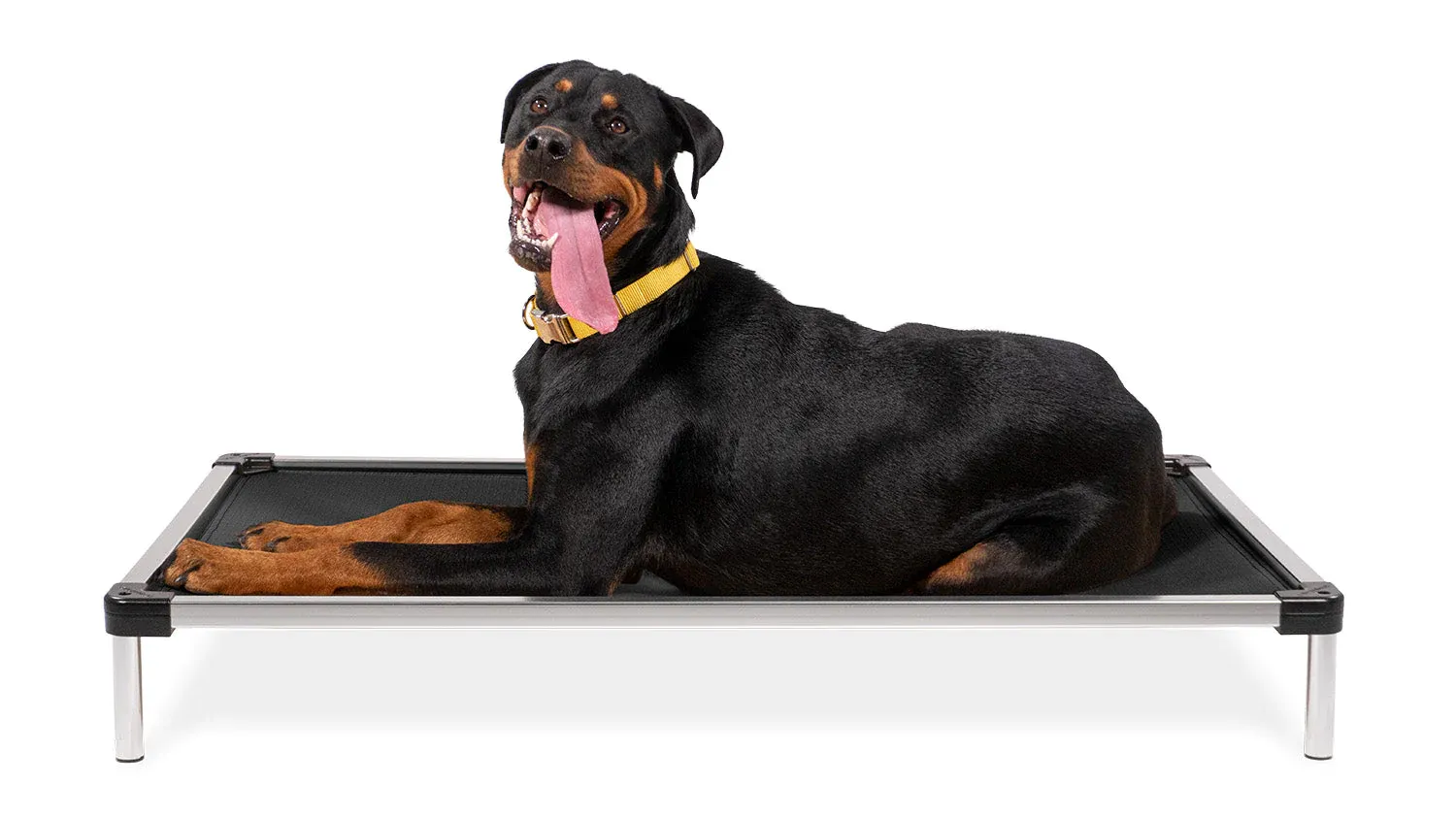 Chew Proof
The bed is made with a ripstop ballistic material that resists chewing, scratching, hair, dirt, and moisture. It's a great choice for Rottweilers that are heavy chewers or are rough on their beds.
Elevated Design
The elevated design will help to keep your Rottie cool and comfortable by promoting air circulation. It also keeps them off the cold, hard floor.
Durable Construction
The bed is built with an aluminum frame that is designed to withstand heavy use. The fabric is also durable and resistant to wear and weather.
Easy to Clean
The fabric is easy to clean with a damp cloth, and hair and dirt can be easily brushed off. This makes it a practical choice for Rottweilers, which can shed a lot of hair.
Criticisms to Consider:
Comfort: Some dogs may not find the material or the elevated design as comfortable as softer, plush beds.
Not Completely Chew-Proof: While these beds are designed to be more durable, some particularly determined chewers may still manage to cause damage. It is pretty difficult to do though!
Price: This bed is still on the pricey side, being close to $200.
Design: Some owners find that the elevated or simplistic design of durable beds doesn't blend well with their home decor.
Assembly: These beds require assembly, which some owners might find annoying. The steps are relatively simple, so this is merely a matter of preference.
If this is the option for you, you can purchase the K9 Ballistics Chew Proof Elevated Dog Bed directly through their website here.
Most Cost Effective Bed:
FurHaven Orthopedic Dog Bed
The FurHaven Orthopedic Dog Bed has several features that make it a good choice for a Rottweiler. Although this bed sacrifices some quality, I find it still stands well above other cheap alternatives and is much more affordable.
Click here to explore the FurHaven bed on Amazon.com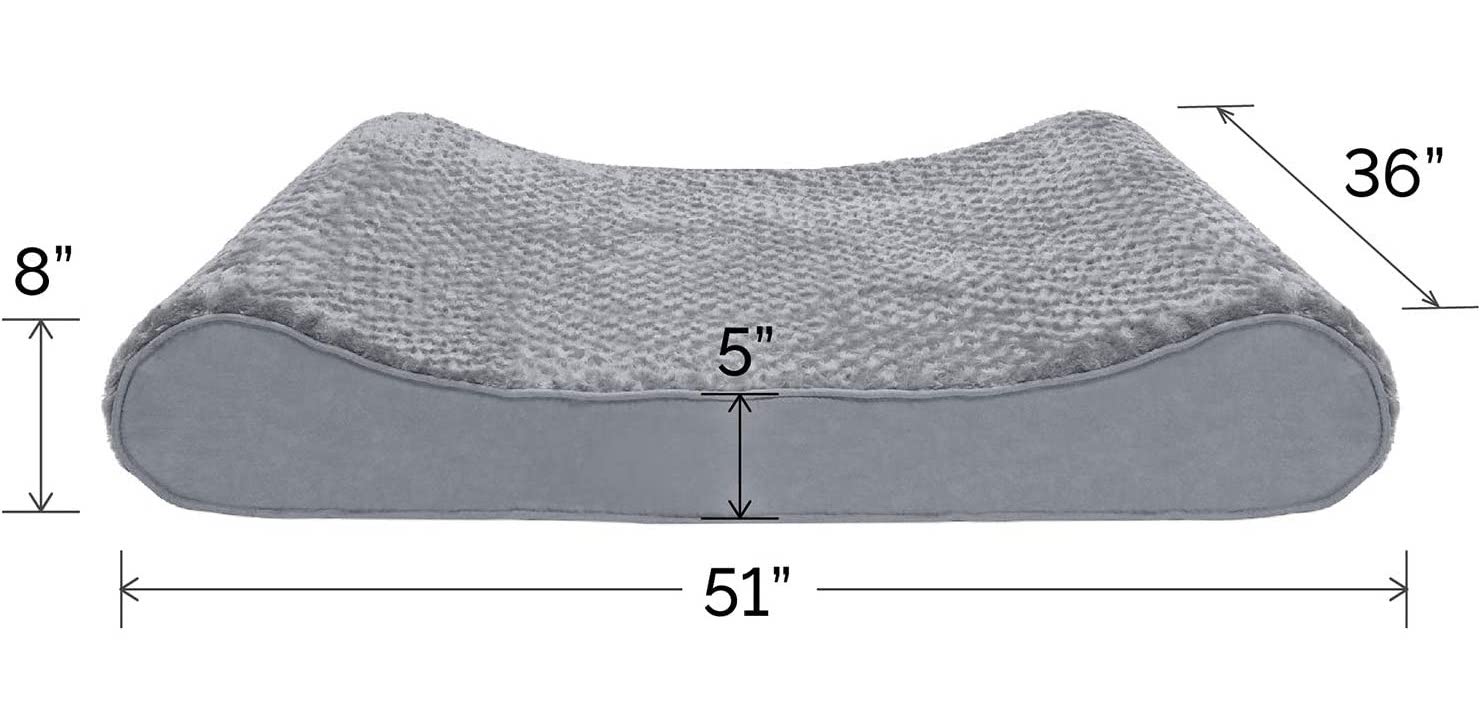 Size
Rottweilers are a large breed, and the FurHaven Orthopedic Dog Bed comes in a 'jumbo plus' size that can comfortably accommodate a Rottweiler's size and weight.
Orthopedic Support
The bed features an egg-crate orthopedic foam base. This design soothes pressure points and supports joints, which can be particularly helpful for Rottweilers that are suffering joint issues.
Comfort
The plush faux fur cover is very soft and comfortable, providing a cozy sleeping surface for your Rottie.
Bolstered Edges
The raised edges can provide a sense of security and also serve as a comfortable place for your Rottweiler to rest their head.
Easy to Clean
The bed has a removable cover that is machine washable, making it easy to keep clean and fresh for your Rottweiler.
Quality and Durability
The bed is made with pet-friendly materials and designed to be durable. This is important for a large and powerful breed like a Rottweiler. These are more of your standard synthetic materials compared to the Big Barker Orthopedic Bed.
Criticisms to Consider:
Quality and Durability Issues: Some customers have reported that the bed is not as durable as they expected. There were complaints about the foam not holding up well, especially for larger dogs, and the cover material ripping easily.
Size Discrepancies: A few customers mentioned that the actual size of the bed did not match the dimensions advertised. This led to some disappointment, especially for those with larger breeds. This may be due to the use of a diagonal measurement (like TVs are measured).
Comfort Concerns: Some reviewers stated that the bed was not as comfortable as they had hoped. They mentioned that the foam was too thin and did not provide enough support for their pets.
Odor Issues: There were also complaints about a strong chemical smell coming from the bed when it was first unpacked. Some customers mentioned that the smell lingered and was unpleasant.
Difficulty in Cleaning: A few customers found the bed difficult to clean. They mentioned that the cover was not easy to remove and that the foam absorbed odors and stains.
Customer Service: Some customers were not satisfied with the customer service they received from FurHaven. They mentioned issues with returns and exchanges, and a lack of responsiveness to their concerns.
Things to Consider When Buying Your Rottweiler's Bed
Regardless of which bed you choose, below are the most important things to look for when finding a bed for your Rottweiler. Of these things, you can determine which are the most important to you and your Rottie, taking your budget into consideration too.
Durability & Chew-Resistance
Rottweilers are strong and active dogs, so their bed needs to be able to withstand their weight and activity level. Look for a bed that is made from high-quality, durable materials that can resist wear and tear.
Some Rottweilers may be prone to chewing, especially when they're young or bored. If this is the case, a chew-resistant bed can be a good investment to prevent the bed from being destroyed.
Easy to Clean
Rottweilers, like all dogs, can get dirty, and they shed hair, so it's important to have a dog bed that is easy to clean. Look for beds with removable, machine-washable covers.
Size
Rottweilers are a large breed, so they need a bed that is large enough for them to stretch out comfortably. The bed should be big enough to accommodate their full length and width when they are lying down in their most stretched-out position.
Most adult Rottweilers measure between 38 and 42 inches long, so anything 50" will allow your Rottie to stretch out. Most dog beds come in a range of sizes, so this should be an easy box to tick.
Comfort
Like all dogs, Rottweilers need a comfortable place to rest and sleep. Look for a bed that has a soft, plush surface and enough padding to provide good support for their joints and muscles. Orthopedic beds or beds with memory foam can be particularly beneficial for older dogs or dogs with joint issues.
You should also consider any special needs that your Rottweiler has.If your Rottweiler is older or has joint issues, an orthopedic bed can provide extra support and comfort.
Remember, the best bed for your Rottweiler will depend on their individual needs and preferences, as well as your budget and the space available in your home. I hope this article has helped you gain the confidence to choose the right bed for your Rottie.